Monte da Vida - Forest Alchemy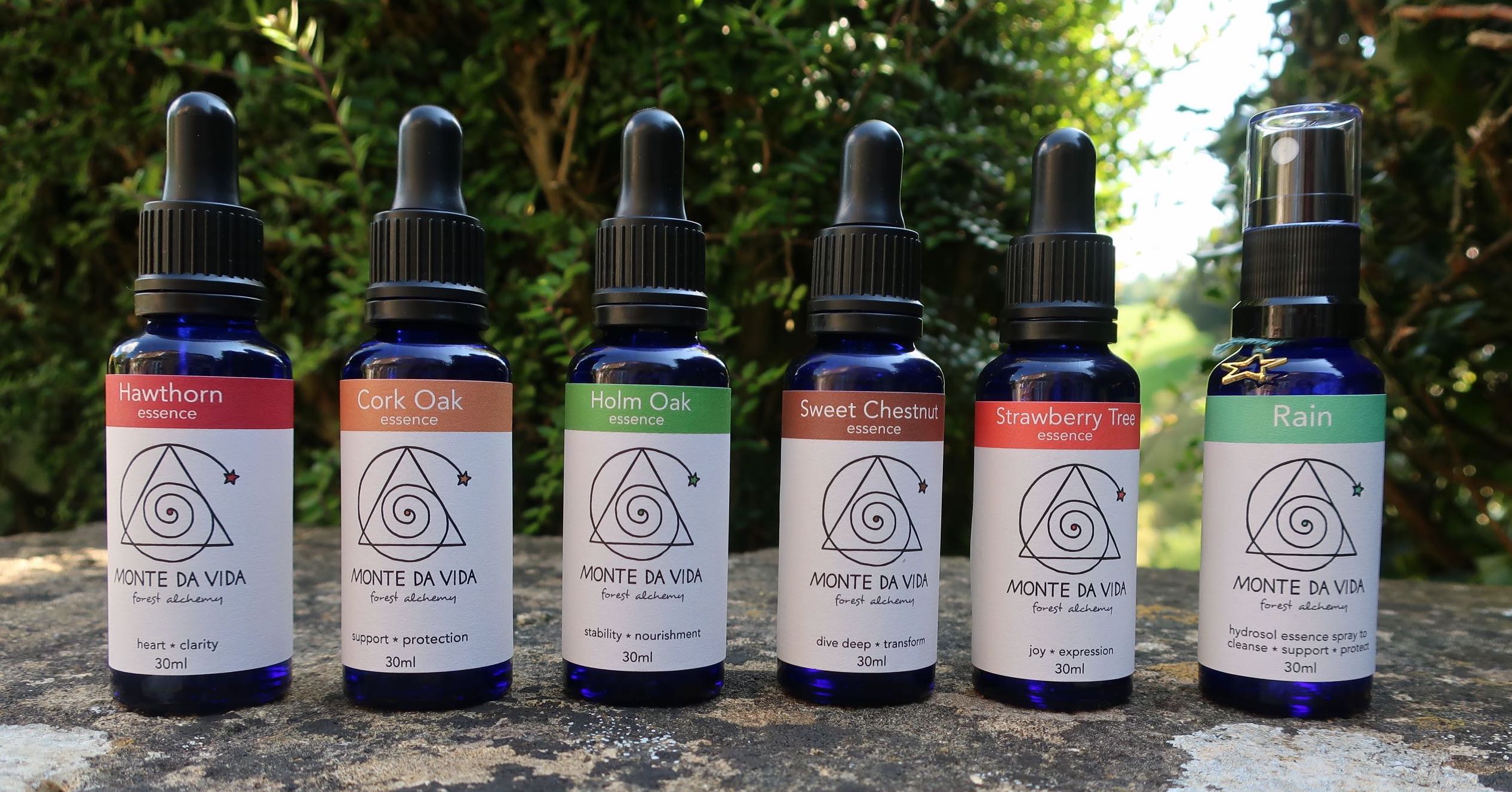 Products
Click on the slider arrows to read about the products.
Or read the full description of each one and testimonials, by following the read more links to the Monte da Vida – Forest Alchemy webpages.
Tree Essences
Essences are available in 30ml blue glass bottles with dropper. £10 plus postage
Balance between giving and receiving, supporting and being supported.
Clear communication.
Opens up compassionate awareness.
Protector.
Grounding. Earth connection. Going within. Finding your roots.
Stability within the core of your being.
Nourishment and strength.
Lift out of despair and anguish.
Courage to go deep and face your shadows.
Transformation.
Creative expression.
Recognise negative patterns that block your natural state of joy.
Celebrate, play, create.
Express your beauty.
Connect to unseen realms.
Essence Qualities
Recharge and rejuvenate.
Strengthens Chi.
Embodied physicality.
Connect to the support of solar energy.
Forgiveness.
The Rain spray is available in two sizes:
30ml blue glass bottle with sprayer. £12 plus postage
50ml blue glass bottle with screw lid. £15 plus postage
Rain
cleanse ★ support ★ protect
Energy-clearing. Refresh.
Shifting to a more positive attitude. Remembering your connection to the power and support of nature.
Waking up to the blessings all around you.
Sometimes we have small quantities of other products for sale. Currently we have the following single hydrosols and dried herbs:
Single Hydrosols – special offer 100ml for £8 or 30ml for £5 plus postage.
Green Lavender (Lavandula viridis)                                               
Wild Oregano  (Oregano vulgare)                                                  
Wild Mint (Mentha suaveolens) 
Helichrysum (Helichrysum italicum)
Wild Fennel (Foeniculum vulgare)
Dried herbs – special offer £2 per packet plus postage
Wild oregano flowers (Oregano vulgare)
Cistus flowers (Cistus ladanifer)
Dried Helichrysum flowers (Helichrysum italicum)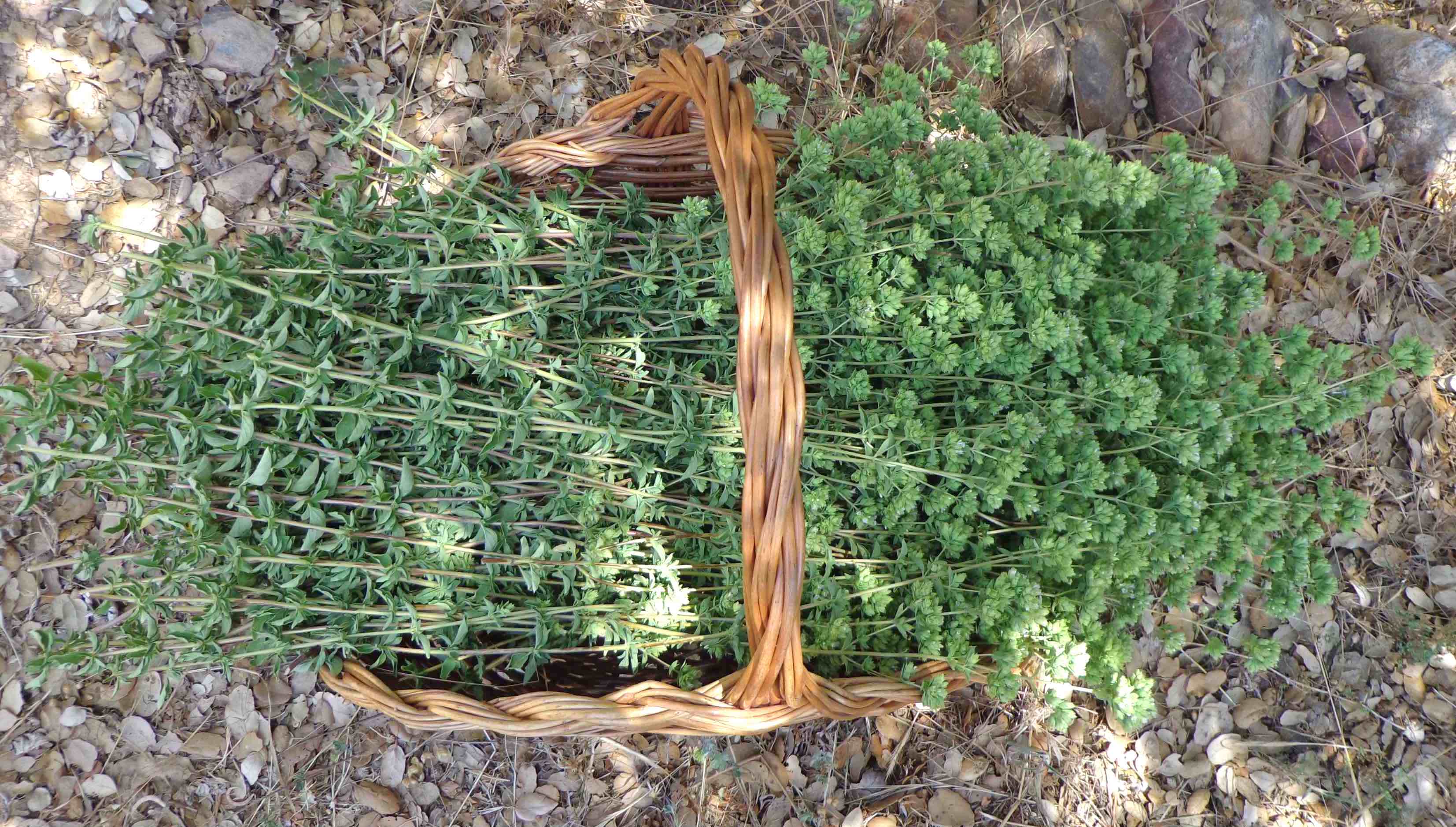 Wild Oregano picked from the forest edges whilst in flower. The flowering heads have a more intense aroma and taste compared to the leaves.
How to order
We are in the process of setting up payment systems, and building our network of distributers. In the meantime please contact us to make a purchase. You can pay with Paypal, Bank Transfer or Cryptocurrency.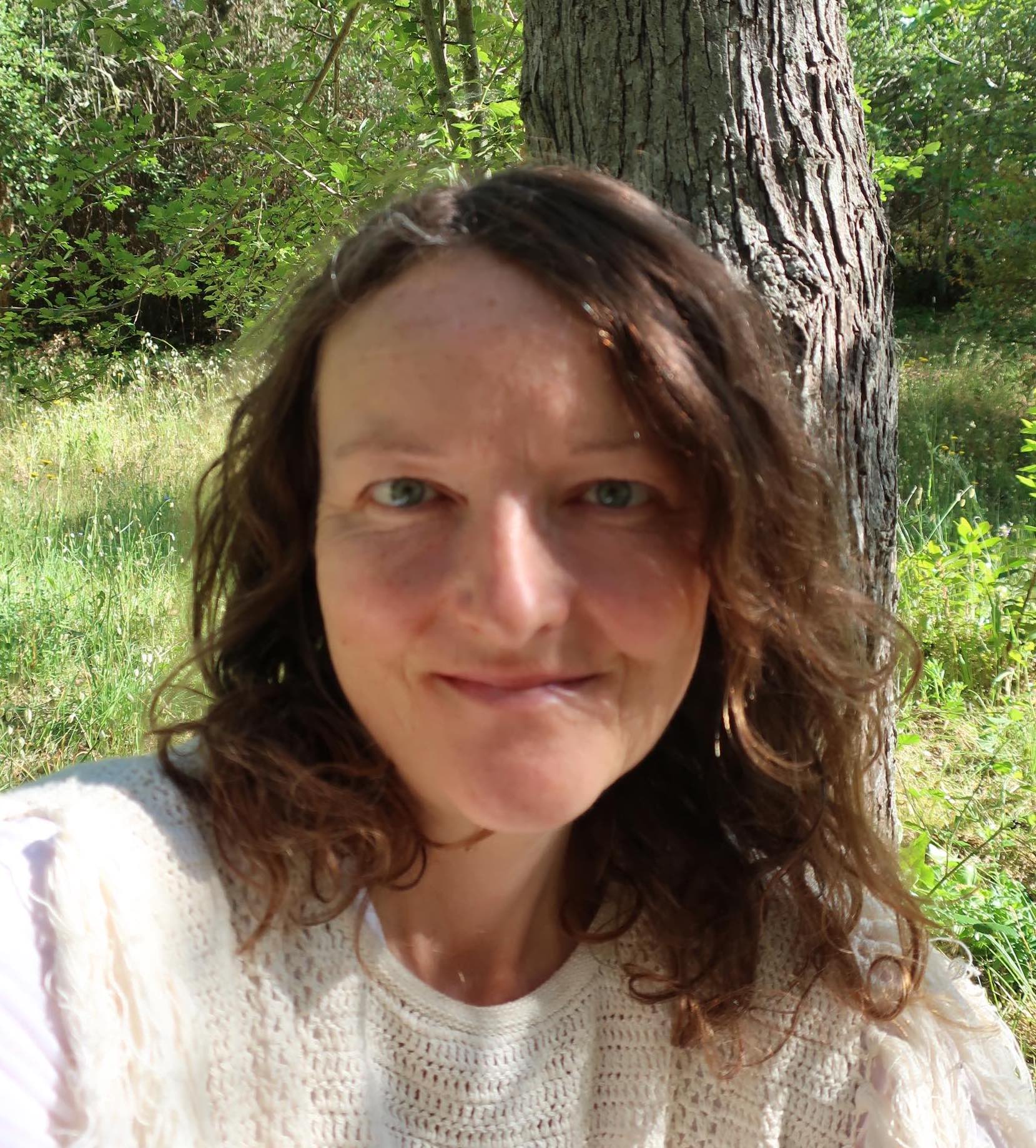 Message from Clare, forest alchemist at Monte da Vida
Welcome to the magic of Forest Alchemy.  It is a great pleasure to collaborate with the trees and wild plants of Monte da Vida to bring you these products.
If you want to read more about my journey in making them, head over to the Monte da Vida website where you can read my account Listening to the Trees. You can also find detailed information on each essence and the process of making it by following the linked pages from here.
Thank you for supporting the trees!.
What is a tree essence?
Tree Essences are a type of vibrational essence, made by infusing the flowers and/or twigs of trees in a glass bowl of water left in the sun, or in some cases, by boiling them. The resulting mother essence is used in a strongly diluted form to make the remedy.
Essences primarily work on the energetic, emotional and spiritual levels. They are very safe and gentle to use, but can be powerful aids to finding balance.
What is a hydrosol?
A Hydrosol ( flower water, hydrolat), is an aromatic water made from distilling leaves, branches or flowers of aromatic plants.
Our hydrosols are distilled in a traditional copper alambic still from wild plants on the land in southern Portugal, consciously harvested by hand.
The sprays are a blend of hydrosols, with some added drops of tree essences. They can be used to clear space, clear your head, refresh and support.
Nature and trees are an unlimited support for my emotional well-being. I am deeply grateful for having found the Forest Alchemy Essences from Monte da Vida. I am impressed again and again how those precious drops build a bridge from my life in the city to nature, allowing all the space for my emotions that I could hardly find without actually being in nature. It is a real treat!
Nina Cejnar, Impact Investing & Emotional Intelligence Coach with GoldenDeer