Forest Alchemy
from Monte da Vida, Portugal
Experience the supportive power of  trees and plants, wherever you are.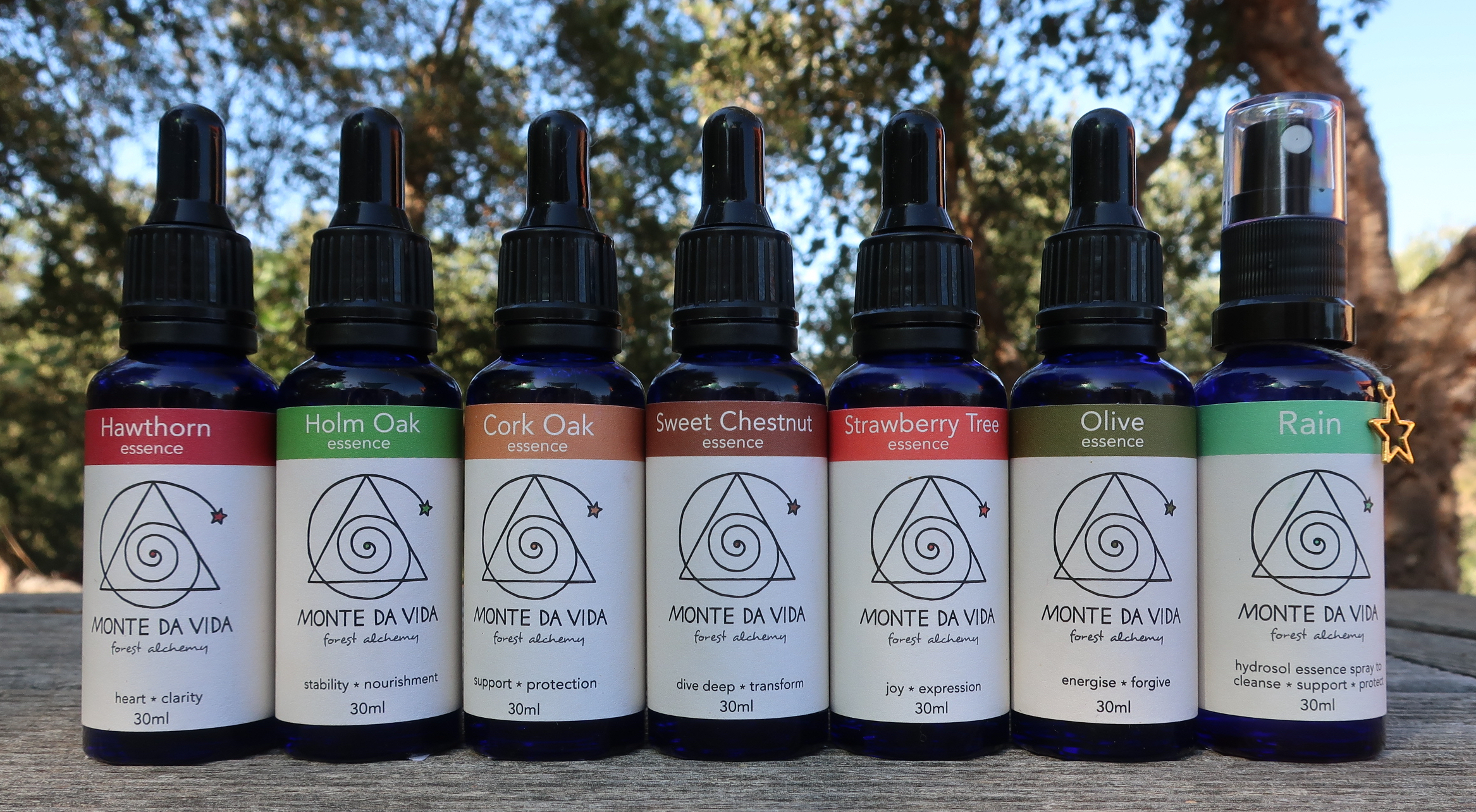 Welcome to the magic of Forest Alchemy.  It is a great pleasure to collaborate with the trees and wild plants of Monte da Vida to bring you these products.
Tree essences and aromatic waters are one way you can receive energetic support of the forest right into your living room, or when in challenging environments such as airports, planes, busy polluted city streets. By purchasing a product you create a direct energetic link to the trees that offered their flowers, leaves or twigs to make the essences
If you want to read more about my journey in making them, head over to the Monte da Vida website where you can read my account Listening to the Trees. You can also find detailed information on each essence and the process of making it by following the linked pages from here.
Profits from purchasing these products will go directly to support the regeneration and stewardship of the forest at Monte da Vida.
Thank you for supporting the trees!
Clare, Forest Alchemist at Monte da Vida
What is a tree essence?
Tree Essences are a type of vibrational essence, made by infusing the flowers and/or twigs of trees in a glass bowl of water left in the sun, or in some cases, by boiling them. The resulting mother essence is used in a strongly diluted form to make the remedy.
Essences primarily work on the energetic, emotional and spiritual levels. They are very safe and gentle to use, but can be powerful aids to finding balance.
What is a hydrosol?
A Hydrosol ( flower water, hydrolat), is an aromatic water made from distilling leaves, branches or flowers of aromatic plants.
Our hydrosols are distilled in a traditional copper alambic still from wild plants on the land in southern Portugal, consciously harvested by hand.
The sprays are a blend of hydrosols, with some added drops of tree essences. They can be used to clear space, clear your head, refresh and support.
Nature and trees are an unlimited support for my emotional well-being. I am deeply grateful for having found the Forest Alchemy Essences from Monte da Vida. I am impressed again and again how those precious drops build a bridge from my life in the city to nature, allowing all the space for my emotions that I could hardly find without actually being in nature. It is a real treat!
I have been curious about plant essences, and working with the vibration of plants for over 30 years. I can confidently say that Clare is a powerful medicine maker, her connection with the trees and plants is beautiful and therapeutic. The essences work fast and support change on a deep healing level.
As a practitioner myself, I am excited to work with the essences and grateful to be able to support others with them.
Thank you Clare for your wonderful medicines. 
Disclaimer
PLEASE NOTE: We advise that you take responsibility for your own health and wellbeing and do not rely on any information given on this site when making decisions about your health.
If you are unsure about the effect that any of our products might have on your physical, mental or emotional wellbeing, please contact a professional medical advisor.
You purchase our products at your own risk and we are not responsible for any ill-effects you might experience after taking them.