Adventures in Portugal
Back in 2012 I created Earthlife, and spent 6 months actively working on the website, honing the mission, making presentations, hosting brainstorming sessions and having discussions with friends and allies.
In May 2013 the sale completed on the purchase of 34 hectares of land in Portugal, and Servan Keondjian and I co-founded Monte da Vida. In September 2013 we began work clearing the long abandoned land, and creating off-grid infrastructure and basic living conditions.
All my energy went into the realities of stewarding a piece of land, and creating a place where we human beings can harmoniously exist with the rest of nature, and make a positive rather than a negative contribution to the ecosystem we find ourselves in.
This journey has proven to be immensely valuable for deepening my understanding of some of the many challenges faced by earth stewards and small farmers around the world, such as drought, depleted and eroded soils, large-scale monocultures, impact of government subsidy programmes and rural development policies, etc.
In my exploration of funding opportunities, I have realised of the lack of support available for those engaged in the transition from an extractive to a regenerative rural economy. Part of this transition is the work that we need to do to transform our entrenched attitudes and beliefs around nature being an economic resource, there purely for our use. It is easy to point the finger at the worst offenders (Big Agriculture, monoculture plantations etc), but when it comes down to the small scale, and the need to 'make a living' from the land, this topic will keep arising over and over and goes right into core beliefs about how to survive. I will be sharing more on this topic and will post in the next Earthlife news ….
Read more about our home in Portugal here.
Ecuador
Reforestation in the Andes
I have been supporting Juan Patricio Pilco Hipo, and his project Dressing the Mountains in Green since 2008. In February I visited Ecuador, and saw how he and his community are facing many similar challenges to those we experience in Portugal – but to much worse degree! At times I felt devastated to see the level of soil erosion, the dead silent eucalyptus plantations without birdsong, the long term results of poorly spent "development" funds and government interventions, and the history of oppression of the indigenous peoples. I was deeply moved and impressed by the immense work that has been achieved by Patricio and his family, with minimal funds and in spite of great challenges and personal tragedies.
I saw the huge value of connection and mutual support can give, keeping hope alive, and focus in place. Together we shared experience and knowledge, we watched inspiring videos of successful reforestation projects, (see links at the bottom of the page). As Earthlife grows, I recognise this will be a big part of our work.
I also had the opportunity for a cultural immersion – staying with the Pilco family in their compound, helping pick berries for the market, sharing guayusa teas at dawn, enjoying their abundance of organic vegetables, attending a wedding, and Carnaval celebrations.
The Pilco family wish to create a small simple guest house on the farm, so others can experience and share. We are planning a fundraiser for this. However if in the meantime you are visiting Ecuador and wish to visit, let me know and I can arrange it.
Journey to the Amazon and Los Yapas
During my visit to Ecuador in the Andes, I took a few short trips east, travelling down from Riobamba to the hot springs and lush waterfalls of Baños, and then further down towards the Amazon.
I felt the forest pulling me towards it – this still vast (but rapidly shrinking) expanse of wet green wildness. I did not have time for more than a brief exploration of its despoiled fringes, where settlers have clear-cut and only small pockets of primary forest remain. Here I spent a night at Los Yapas, a family-owned reforestation initiative that is transforming land that was clear-cut and grazed by cattle, back into lush biodiversity, and providing a home for thousands of orchids and bromeliads rescued after loggers have removed the trees from an area. I loved this project and will write more about it soon.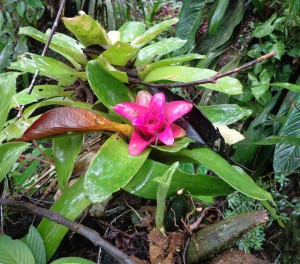 People
We are happy to have Dee Kyne join the Earthlife team last year, and this year she arrived to join us living, working and practising at Monte da Vida. Dee has a wealth of experience and a deep love of nature, as well as being a great networker, communicator and catalyst for change.
Read more about Dee: http://deekyne.com/ and www.earthrightswalker.org
The core Earthlife team is now three – Dee, Servan and myself – read about us here.
Events
In April Dee and I ran a design workshop at the Marmalade event in Oxford. Read about it here. We plan on running more such events in the future. Let us know if you would like to host us or include us in your event.
____________________________________________
Some videos of inspiring projects that I watched with Patricio: